SUBJECTIVE OBJECTS-INSPIRED BY DAILY OBJECTS WITHIN PERSONAL ROOMSPACES
My project is about simulating bionic perspective from object itself to human. In my mind of creating the system of my daily objects by turning them into giant wearable experiences for people, they are no longer "invisible" to people and they act like an reliable guardian who has tangible feeling in the process of interactions with humans and always keeping the joyfulness in the moments of people staying at home. Can we find new ways to experience the realities or inanimate objects in order to push new design boundaries? By emphasizing on the everyday objects, I am not only creatingt life-size objects costumes, but I also want to convey the message that our surroundings are powerful, and we can see things at different angles, sometimes so different and so unexpected that we can always be ready for any challenges in lives.


By enlarging the effect showing on the object, I used AR projections on the clothes with animations to create a funny look of the objects, but after I had the photo shoot, I actually wish to have more interaction on my objects and other people, but under the condition of this COVID situation, I tried my best to create an AR rendering of the objects, which allows others to view the clothing in their living space, which is more fit my goal of the showing essentiality of those everyday objects.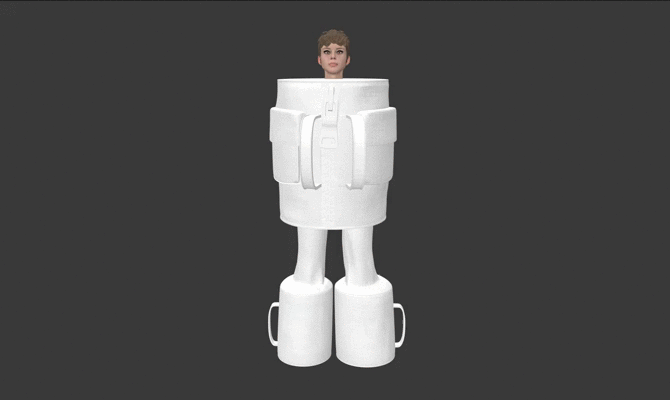 3D Animation (VR) experience: The most funny part about my project is the shooting of those wearable, I created 3d animations that shows in the VR glasses for the purpose of showing how an object sees when it encounters human's action, and for other purpose of preventing my friend to see what she wears and how I am going to pour the water into the clothes, or how she will feel by wearing those garments.

"Full Creation Video"